Studie z července roku 2014
Robert T. Dauchy, Shulin Xiang, Lulu Mao, Samantha Brimer, Melissa A. Wren, Lin Yuan, Muralidharan Anbalagan, Adam Hauch, Tripp Frasch, Brian G. Rowan1, David E. Blask, and Steven M. Hill
A B S T R A K T
Rezistence na endokrinní léčbu je velký problém pro léčbu rakoviny prsu – klinické důkazy spojují rezistenci na antiestrogenové léky při léčbě rakoviny prsu s přílišnou expresí, nebo aktivací různých pro-onkogenních tyroznových kináz. Porušený cirkadiánní rytmus zvyšuje riziko tohoto druhu rakoviny a jiných onemocnění, důležitý melatonin, který zastavuje růst rakoviny prsu chybí. V této studii byli použiti potkani s jejich estrogenovým receptorem ER-alfa+. Poškození jejich cirkadiánního cyklu a tedy ozáření světlem v noci urychlovalo vývoj nádorů prsou a zároveň způsobilo rezistenci na tamoxifenovou terapii. Tyto zdravotní problémy, nebyly pozorované u zvířat kde cirkadiánní rytmus nebyl poškozen, nebo u těch které sice byly ozářené světlem, ale byl jim melatonin podáván uměle.
Slovník:
Onkogen = je gen, který má potenciál pro vznik rakoviny, právě v nich jsou tyto geny zmutované, nebo příliš vyjádřené (genová exprese)
Tyrozínové kinázy = jsou enzymy, které slouží jako doprava pro fosfátovou skupinu např. z ATP (což je energické platidlo buňky) k jiným proteinům v buňce. Tato fosfátová skupina je těmito enzymy navázaná na aminokyselinu tyrozín těchto proteinů, které ji přijímají.
Jak se zasekne tento enzym jako stále zapnutý (když je buď ON, nebo OFF) tak způsobuje neregulovaný růst buňky, což vede k rakovině. Proto na zastavení tohoto druhu rakoviny je potřebné použít inhibitory těchto tyrozínových kináz.
Skratka dLEN = dimmed light exposure during night, bez toho "d" je to jen light exposure during nigh.
Malá aminokyselinová odbočka:
Tyrozín je jedna z 20 aminokyselin našeho těla – jejich sekvence tvoří proteiny a možností je velmi mnoho, když řekneme že máme protein složený ze 100 aminokyselin, máme 20 na 100 (exponent) možností t.j. velmimnoho, svým způsobem nekonečno, to číslo by bylo přez celou obrazovku počítače.
Jak s rakovinou souvisí estrogenové receptory?
1. navázání estrogenu na estrogenové receptory (dále ER) buňky stimuluje zvýšené dělení buňky, replikací DNA a tedy vede k mutacím.
2. estrogenový metabolizmus (všechny chemické reakce, které se ho týkají) vede k genotoxickému odpadu t.j. může poškozovat DNA a vést k mutacím
3. souvisí s rakovinou prsu, vaječníků, tlustého střeva, prostaty a děložní sliznice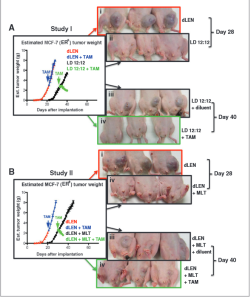 vysvětlivka:
podmínky dLEN znamenaly, že nádor rostl rychleji a dříve po implantaci. Všechny nádory z dLEN byly imunní na léčbu tamoxifenem a rostly stejně rychle jako ty neošetřené, kterým byl podaný jen vehicle (placebo). Apoptóza byla zvýšená u všech potkanů, kteří nebyli dLEN. U těch, kteří byli dLEN, byla zvýšená, když dostávali melatonin (ale méně zvýšená než u 12:12). Celkově však, nebyla apoptóza a jiná forma vraždy buňky až tak zvýšená jako se očekávalo – neví se proč, nepředpokládá se, že jsou tam ještě jiné věci co ovlivňují rychlost úbytku nádoru.
Celou studii naleznete na tomto odkaze.